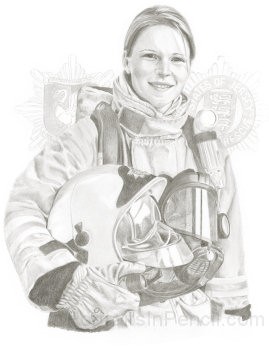 Dominic contacted through my website, to draw this pencil portrait of his sister, who had just passed her Leading Firefighters exam, as a congratulatory birthday present.

I was very happy to include the emblems of the two fire services she has worked for and all of her gear - athough drawing it all was quite a challenge..

Heaven knows how she manages to move with all that stuff attached!


Subject:Firefighter Portrait
Date sent:Thu, 3 Aug 2006 18:59:07 +0100